Home
ATOMY HemoHIM
ATOMY HemoHIM is a natural, herbal, toxin-free, functional daily health supplement to strengthen the immune system's natural functioning, to increase stamina as well as to contribute to the general health of everyday people. Clinical studies addressed gout, skin cancer and thyroid cancer
HemoHIM is patented by the South Korean National Government Agency ("KEIRI) and produced by Kolmar BNH – a Joint Venture of Kolmar Korea Co. Ltd. and KAERI.
ATOMY is the official, exclusive global distributor of HemoHIM on its online shopping mall platforms across 30 +countries. (Note: HemoHIM is not yet sold in all countries.)
On this page (below) you will find the following information about HemoHIM: Product Details, Disclaimers, Patent Information (including downloadable Patent Documents), Links to U.S. Government Technical Papers on HemoHIM, and TV Video about HemoHIM Research & Development and effects.
To BUY HemoHIM go to JOIN ATOMY page (on our sister site AtomyEveryday.com) for your free membership number. Instructions are there to log onto the official ATOMY online shopping mall for genuine ATOMY HemoHIM.
HemoHIM Product Information
ATOMY HemoHIM Product Introduction – Video [12 Min]
---
ATOMY HemoHIM Herbal Extract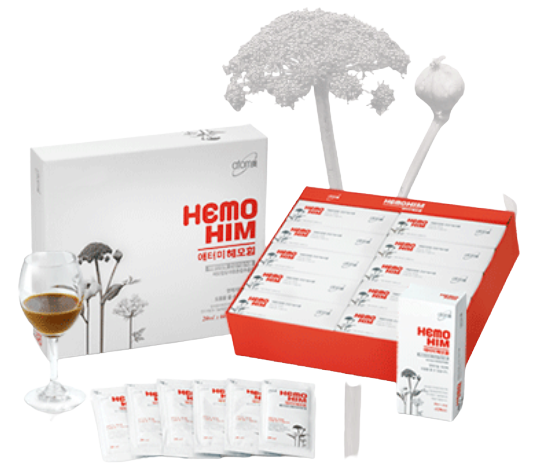 ATOMY HemoHIM Product Package Description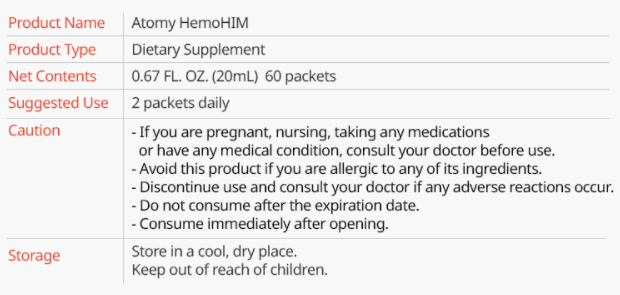 _______ Product Features _______
HemoHIM Development
Food & Biotechnology Team of Korea Atomic Energy Research Institute (KAERI)
Kolmar BNH Co. Ltd. (SBT) was established in the Daeduck Research and Development Special Zone, the first research enterprise approved by the Ministry of Education, Science and Technology in South Korea. Kolmar BNH (SBT) is a joint venture between KAERI and Kolmar Korea.
Commercialization through Atomy Co. www.atomy.kr.
_______ Supplement Facts _______
_______ Caution _______
If you are pregnant, nursing, taking any medications or have any medical condition, consult your doctor before use.
Avoid this product if you are allergic to any of its ingredients.
Discontinue use and consult your doctor if any adverse reactions occur.
Do not consume after the expiration date.
Consumer immediately after opening.
___ HemoHIM Disclaimer ___
HemoHIM does NOT diagnose, treat, cure, nor prevent any disease.
Contraindications: Hemophilia & organ transplant.
The information on this web page is for informational purposes only and is not medical advice.
_______ Storage _______
Store in a cool, dry place.
Keep out of reach of children.
___ Product Functions ___
Stimulates NK Cells
Generates Cytokines
Stimulates Immunocytes
Strengthens the Immune System
_____ Recommended Consumers _____
Elders who need energy restoration
Workers exhausted from long hours
Students that need physical endurance//Long distance drivers
Homemakers worn out from stress of housework
Caregivers worn out from the stress of caring for others
Athletes who consume a lot of physical energy
---
HemoHIM Patents
HemoHIM patent is for boosting immune system, anti-cancer, anti-oxidant and promoting hematopoiesis (production of red and white blood cells).
HemoHIM is patented in seven countries – South Korea, Japan, United States of America, United Kingdom, France and Italy.
HemoHIM was developed and patents are owned by the South Korean national government agency called KAERI – the Korean Atomic Energy Research Institute.
//////////
United States Patent US 6,964,785 B2 Issued Nov 15, 2005.
Assignee: Korea Atomic Energy Research Institute, Daejeon (KR)
HERBAL COMPOSITION FOR IMPROVING
ANTICANCERACTIVITY, IMMUNE
RESPONSE AND HEMATOPOESS OF THE
BODY, AND PROTECTING THE BODY
FROM OXIDATIVE DAMAGE, AND THE
METHOD OF PREPARING THE SAME
///////
United States Patent 10,736,929 August 11, 2020.
Method for preparing herbal composition having increased fat-solublepolyphenol content, herbal composition prepared thereby and use thereof.
---
HemoHIM R&D Explanation National TV Broadcast Video [3 Min]
HemoHIM R&D Explanation on South Korean National TV Broadcast Video
HemoHIM Research and Development (R&S) is explained in this South Korean National Broadcast on KBS TV. Clinical studies and effects are described.
---
---
U.S. Government Websites With Many Technical Papers About HemoHIM
Here you can find links to two official United States Government websites that each list numerous scientific technical papers about HemoHIM Plus.
//////////
See pubmed.gov website

pubmed.gov website link (https://pubmed.ncbi.nlm.nih.gov/?term=hemohim)
//////////
See nih.gov website
nih.gov website link (https://search.nih.gov/search?utf8=✓&affiliate=nih&query=hemohim&commit=Search)
---
Consumer Testimonial Videos
Find consumer testimonies about ATOMY HemoHIM please visit our sister website AtomyEveryday.com/hemohim
---
BUY HemoHIM Now
To Buy ATOMY HemoHIM go to JOIN ATOMY page (on our sister site AtomyEveryday.com) for your free membership number. Then follow instructions there to sign into the official ATOMY online shopping mall to buy genuine ATOMY HemoHIM.
---
Questions?
---
Thank you for visiting.